DISCOVER


DOWNTOWN
FEATURED BUSINESS


Nelson Jewelry
There was a time when you knew the name of the grocer, the banker and the tailor. Simpler days when a rotary telephone was the most advanced communication device anyone had. That's the world Nelson Jewelry opened its doors to back in 1928. A bustling downtown with friends stopping in to browse, buy, or just say hello. And, no matter how busy the shop might be, you were always warmly greeted and well taken care of. Ralph Nelson began working with customers in those distant days, and he raised his son, Tom Sr., to understand that it was the way you made people feel that genuinely made a difference. You'll still sense it when you step into Nelson Jewelry, with Tom Jr. at the helm. Even though you'll be surrounded by today's most beautiful jewelry—you'll recognize the lost art of service that has been carefully maintained.
With jewelry and gifts to fit any style and any budget, we are proud to be a fixture on Grand Avenue for nearly 90 years.
Welcome to Spencer Main Street!
We are proudly celebrating our 31st anniversary as a Main Street Iowa program this year. Spencer was founded on fertile soil, tested by fire, and thrives because of its people. The same is true for Main Street. We are a non-profit organization that works hard on economic development, historic preservation and bringing people downtown because we know there is no grander place!
Spencer is one of 54 Main Street communities in this great state of Iowa. We are a 501(c)(3) non-profit organization and are funded primarily through a Self-Supported Municipal Improvement District (SSMID) that was established in 1987 and supported by the City of Spencer. That district includes more than 160 businesses on North Grand Avenue from Hyvee, Walgreens and Fareway south to the bridge and a block east and west.
WHAT'S HAPPENING DOWNTOWN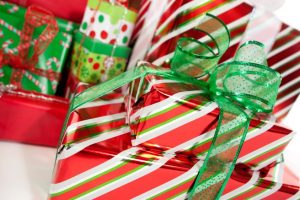 The Spencer Main Street Elves will wrap your gifts, for a free will donation, while you enjoy a bite or beverage at Weasy's Lounge and Grill. Weasy will be featuring a Wrap Special for the day too. Bring in any gift you want wrapped and we will lighten your holiday chore list!