DISCOVER


DOWNTOWN

FEATURED BUSINESS


Kari's Fine Clothing for Women
 Kari's carries women's clothing, shoes and accessories including jewelry, scarves and handbags.
Kari's has a great selection of casual to dressy apparel.
With locations on Spencer's Historic Main Street and in Okoboji, they can help you find the perfect outfit for any occasion! Stop by and find exactly what you want and need.
Welcome to Spencer Main Street!
We are proudly celebrating our 32nd year as a Main Street Iowa program this year. Spencer was founded on fertile soil, tested by fire, and thrives because of its people. The same is true for Main Street. We are a non-profit organization that works hard on economic development, historic preservation and bringing people downtown because we know there is no grander place!
Spencer is one of 54 Main Street communities in this great state of Iowa. We are a 501(c)(3) non-profit organization and are funded primarily through a Self-Supported Municipal Improvement District (SSMID) that was established in 1987 and supported by the City of Spencer. That district includes more than 170 businesses on North Grand Avenue from HyVee, Walgreens and Fareway south to the bridge and a block east and west.
WHAT'S HAPPENING DOWNTOWN
This is a joint effort between SPACE (Spencer Alliance for A Creative Economy) and Main Street. It starts July 11th and runs every Thursday night for 5 weeks on the lawn of the Clay County Courthouse from 5-8pm. Vendors can set up for free and a non-profit organization will be providing a low cost meal … Read moreMain Street Market
Get ready to shop til you drop from July 25th -July 27th in downtown Spencer! While you're shopping, Main Street Volunteers will be handing out water to keep you hydrated! (We don't really want you to drop) Plus this year you can enjoy a cocktail and bite outside at 2 different Sidewalk Cafes at Weasy's … Read moreDowntown Crazy Days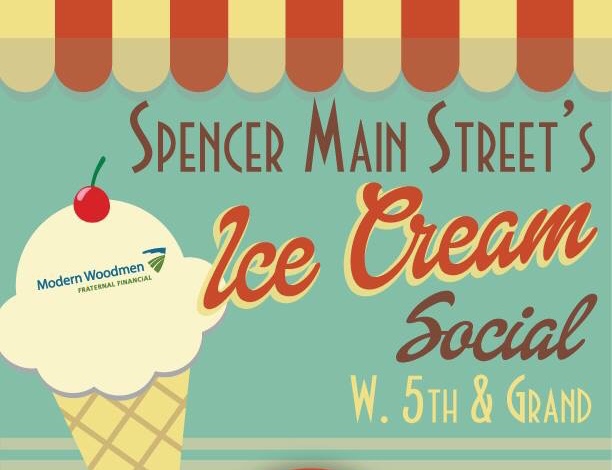 We are celebrating the start of the new school year with a good old fashioned Ice Cream Social on August 22rd at West 5th and Grand from 5-7pm. A buck a scoop and all the toppings are free! Plus there is root beer if you want to make a float.