DISCOVER


DOWNTOWN


FEATURED BUSINESS


Vermeer Glass Art
   Jim & Julie Vermeer recently bought, gutted and renovated the old Spencer Pharmacy at 302 Grand. It's now the beautiful new home of Vermeer Glass Art.
They take great pride in their handmade fused art glass and we enjoy the creative process involved. You'll also find unique pieces from other artists in the region.
Early next year, they will host a variety of classes.
Store hours are Monday-Friday 10am-6pm  and Saturday 9-3pm.
Welcome to Spencer Main Street!
We are proudly celebrating our 34th year as a Main Street Iowa program this year. Spencer was founded on fertile soil, tested by fire, and thrives because of its people. The same is true for Main Street. We are a non-profit organization that works hard on economic vitality, historic preservation and bringing people downtown because we know there is no grander place!
Spencer is one of 55 Main Street communities in this great state of Iowa. We are a 501(c)(3) non-profit organization and are funded primarily through a Self-Supported Municipal Improvement District (SSMID) that was established in 1987 and supported by the City of Spencer. That district includes more than 180 businesses in Downtown Spencer.
Looking for an incentive to open a new business in town that isn't already here? The Retail Kickstarter Program was created to help spur retail growth in Spencer. This unique program offers a forgivable loan of up to $25,000 in conjunction with a 0% interest loan of up to $25,000 for qualifying projects. For more information and to get an application contact Nancy Naeve at nancy@spencermainstreet.com.
WHAT'S HAPPENING DOWNTOWN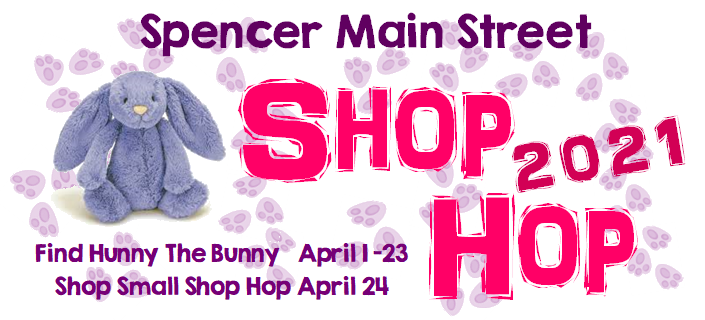 This is Main Street's version of an Easter Bunny Hunt (no stuffed animal was hurt in this promotion). Each day, in the month of April except Sunday,  Hunny the Bunny will be hidden in a store and you can go find her (we will post every day where she will be). While you are in … Read more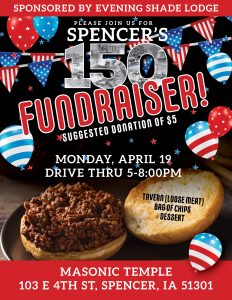 The Evening Shade Lodge is sponsoring a drive through dinner fundraiser on April 19th at the Masonic Temple. They are serving loose meat sandwiches, bag of chips and a dessert for the suggested donation of $5. Part of the profits will go toward paying for our Sesquicentennial Celebration.

We are all hoppin' to get out!! Join us for our 2nd Shop Small Shop Hop on April 24th at Arts On Grand. We will be offering special coupons that day to downtown businesses & you can register to win door prizes from 9-Noon.  The Clay County Rabbit Ranglers Club will also be there for … Read more